Common Side Effects Following Follicular Unit Extraction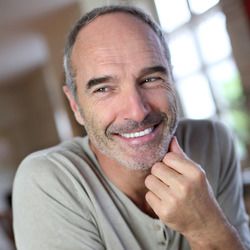 Hair loss is a fairly common, but rarely welcome, side effect of aging. For some patients, extenuating circumstances lead to premature hair loss. In any case, most patients are eager to treat hair loss and restore volume to the hairline. Fortunately, there are many hair restoration options for patients to consider when thinning or loss has occurred, with the most popular options being hair transplant techniques. Follicular unit extraction, which allows for the extraction and implantation of individual follicular units, is one such hair transplant option. Here, hair restoration specialist, Dr. Raymond Konior, explains to patients the most common side effects of follicular unit extraction.
Side Effects
Using punches that are very small in diameter, follicular unit extraction involves the removal of the individual follicular unit, which typically consists of up to four hairs. Because the extraction sites are so small, follicular unit extraction is a hair transplant technique with one of the shortest recovery periods. Most patients have healed within seven days of the procedure. Although recovery should be quick, patients are likely to experience side effects of recovery. Common side effects of follicular unit extraction include the following:
Swelling, itching, and discomfort: It is not uncommon for the donor site or forehead area to be swollen and itchy following this procedure. It is important not to scratch the treatment site, as this could cause scabs to form, which may make itching worse and can also increase the risk of hair loss among newly transplanted hair follicles. Some discomfort may also be experienced during this period. Pain medication may be used as directed to control any discomfort.
Shock loss: Shock loss is a term to describe the loss of transplanted hairs. Most of the hairs that have been transplanted will be lost within the first 10 days following surgery. This is a completely normal reaction to the shock of being extracted and transplanted. Although the hair may fall out, the follicular unit will remain intact and new hair should begin to grow within two to three months. This hair should continue to grow and thicken for about six to nine months.
Scarring: Because of the small diameter of the punches that are used with follicular unit extraction, scarring is far less noticeable with this technique of hair transplantation. The patient will have small, scattered, circular scars at the donor site, but these should be easily camouflaged, especially when patients keep their hair short.
Patching: Although not an immediate side effect of follicular hair extraction, patching may develop eventually if hair from other areas of the head continues to be lost. If hair loss continues, there will be patches of hair where the transplantation took place, surrounded by bald or thin patches. Patients will then need to determine if they would like to perform another transplant procedure to treat additional hair loss and mask this patching.
Contact Us
Although hair loss may not be avoidable, it can be treated. Dr. Raymond Konior can help patients restore a full head of hair and renew self-confidence. Contact us to discuss your hair loss concerns and learn how we can best treat your unique situation. We look forward to meeting you.
Related to This